NEWS
The Last Word with Whitney Port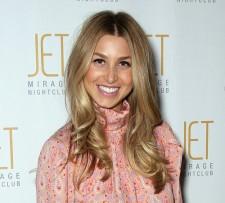 Whitney Port, the star of MTV reality hit The City , tells OK! why she doesn't get mad when she's mistaken for Ivanka Trump — and why she has a hankering for grocery store chicken — while answering some other probing questions.
Last Time I Lied: I lied in order to get out of going to a yoga class. It was a white lie.
Last Meal I'd Eat Before I Die: A rotisserie chicken basket from the Brentwood Country Mart, with the most amazing french friends in the whole world. I'm a sucker for them.
Article continues below advertisement
Last Indulgence: My mom's homemade chocolate cake. It's a secret recipe that I just love, and I was home and had to have it.
Last Time I Felt Jealous: When a boy I liked started dating someone else. I react pretty quietly. I don't really allow myself to be vulnerable very often. I told him how I felt in so many words, but I didn't go crazy.
Last Time I Was mistaken for Another Celebrity: A while ago. I get Ivanka Trump — or Katherine Heigl. It's flattering. They're both great-looking women laughs.
Interview by Valerie Nome