NEWS
Late Net With Jimmy Fallon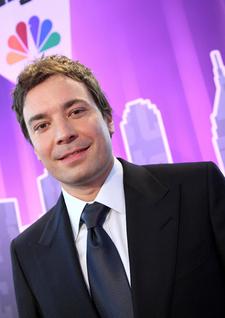 When Jimmy Fallon begins his stint in one of the top jobs in TV, it won't be on TV.
The Saturday Night Live star is going to take over from Conan O'Brien as host of Late Night next year, when Conan moves into Leno's chair on Tonight.
But Late Night producer Lorne Michaels has decided that Jimmy will hone his hosting skills in short online videos for a few months before he gets his shot on the regular TV broadcasts.
Article continues below advertisement
Michaels made the announcement to reporters yesterday at the Television Critics Association's annual summer meeting in L.A., reports the New York Times.
The plan could be a way for Jimmy to avoid the same kind of rocky start that Conan got off to in 1993 when he took over from David Letterman.
Michaels plucked O'Brien out of obscurity to front the flagship show, only for him to be savaged by critics until he found his groove.
The Net spots would ease Jimmy into the high-pressure job and allow him and the writers to work out the right formula before he goes in front of the TV audience.