NEWS
Late Night Booty Call: You Won't Believe Who Justin Bieber Was Caught Making Out With!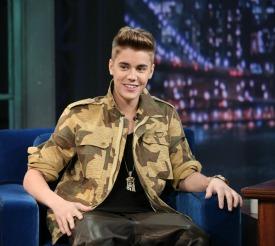 Bzzz. That's a text coming in asking "You up?" "What you up to tonight?" "Wanna come over?"
It's a Late Night Booty Call.
This is where we celebrate the hot guys we want to hang out with late at night....while they're on TV and we're at home under the covers.
Last night Justin Bieber was on Late Night with Jimmy Fallon to promote his appearance as host and musical guest on Saturday Night Live this weekend.
Article continues below advertisement
They played the super-fun Random Object Shoot Out with items such as a Tim Horton's coffee, a photo of Justin's "dad" Chuck Norris and ramen noodles. "I LOVE ramen noodes, bro", Justin declared to Jimmy Fallon.
While the game always keeps us on our toes, we got an unexpected look at what it's like to make out with Justin! Watch the video for the rather intimate moment.
Will you be watching Justin host SNL this weekend? Tell us in the comments below or on Twitter @OKMagazine