NEWS
Latest Stop on the 'Jackass' World Tour: Paris!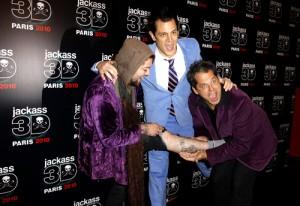 No one does premieres like the Jackass guys. Johnny Knoxville, Bam Margera and Jeff Tremaine attended the Paris premiere of Jackass 3D on Wednesday, where the boys goofed off as usual. Bam's partners in chaos helped him show off his calf tattoo, while he simultaneously showed off the graffiti on his hoodie which read: "The TaliBam."
While Johnny opted for a baby blue suit, Bam and Jeff both sported purple jackets and black jeans.
MORE ON:
OK Galleries & Photos
Article continues below advertisement