NEWS
LaToya Jackson Scenes Cut from Brüno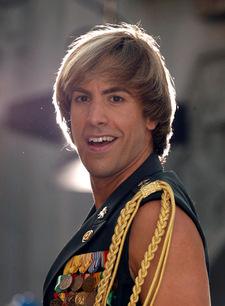 The death of Michael Jackson shocked the world yesterday, including producers of Sacha Baron Cohen's latest uncomfortably funny comedy, Brüno. Those in charge raced to cut mocking footage of LaToya Jackson just hours before the film debuted in L.A., AFP reported.
The character of Brüno convinces LaToya in the movie that he's an Austrian fashion journalist while taking a few comedic shots at her (including a scene where she eats sushi off the body of a naked Mexican worker acting as a table) and producers decided those jokes weren't appropriate in light of her brother's death. It's doubtful that those scenes will remain in the film on July 10 when the movie opens nationwide.
Article continues below advertisement
Despite all efforts to eliminate controversy, Brüno did still end up causing a small mishap. Mourning fans gathered to lay flowers on Michael Jackson's star on Hollywood Boulevard on Thursday, but the flowers were laid on the wrong star. Brüno's red carpet covered the musician's star, while the star with the misplaced flowers belonged to radio talk show host Michael Jackson, the Wall Street Journal reported.