NEWS
Laura Linney relishes 'Nanny'-free past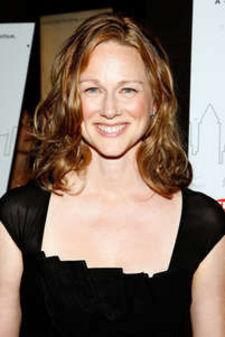 The Nanny Diaries star , 43, didn't grow up with a silver spoon in her mouth. The two-time Oscar nominee had to work for everything she received.
In this interview, the newly engaged NYC native dishes about growing up middle class among the wealthy, assistants telling all, adoration for inexpensive clothing and her upcoming film, The Hottest State.
WHAT KIND OF NANNY/BABYSITTING EXPERIENCE DID YOU HAVE?
Article continues below advertisement
I certainly didn't have a nanny. I babysat a few times, and I ended up having to call my mother because I couldn't handle the child. The child was a screaming, kicking mess, and I ended up calling my mother and she came over and helped me out. It scared me off. That was the end of my babysitting career.
THIS BOOK IS BASED ON A TRUE STORY. WOULD YOU BE WORRIED ABOUT AN ASSISTANT WRITING A BOOK ABOUT YOU?
Yeah! Nervously laughs They wouldn't have much terribly interesting to write about, I don't think, except for a few moments here and there when your blood sugar goes and you get tired. I would be very interested to read that, but I hope not. I hope that anyone I worked with wouldn't exploit our relationship.
YOU GREW UP IN NYC. DID THIS MOVIE MIMICK YOUR EXPERIENCE?
I grew up in Manhattan on the Upper East Side. I went to school with the Grayers of the world. I was not from that subculture. My mom worked at Memorial Sloan-Kettering. She was a nurse. I was raised by a single parent; she worked very hard. I was lucky enough to go to a good school through the generosity of my paternal grandmother, so I was certainly oddball out. I was in school with these very wealthy kids, and I would go visit and play. Some of the parents were spectacular and wonderful to me. The, there were a few, you just wonder how these kids survive and where they are now. I think "God, that was a horrible mother, and I hope she's all right."
Article continues below advertisement
There's a cultural change from then to now. I was growing up in the early '70s, but I think women now in the 2000s and 1990s, you see these overqualified women who have nothing to do, and then they're frustrated, miserable and scared to death. They become controlling, neurotic or self-obsessed.
If you have two parents who have to work, who want to work, you need to have someone to guide your child. That's the hugest responsibility. God bless these women. I have a lot of friends who grew up with nannies, and they worship them. They really, really worship them.
FUN TO HAVE THE CLOTHES YOU WEAR IN THE FILM?
It was nice but the schlumpy clothing is more comfortable. It's schlumpy and you don't look great and your mother's embarrassed that you look like that on-screen, but you're comfortable. The other stuff is gorgeous and it's beautiful but it's not meant to be worn 16 hours a day.
WHAT CAN YOU SAY ABOUT THE HOTTEST STATE?
That was the happiest set I've ever been on. That was a happy set. Ethan Hawke was in great form, that crew loved him, everyone was happy, happy, happy. I had a really good time doing that.
The Nanny Diaries is in theaters August 24.
By Valerie Nome