NEWS
Lauren Alaina Goes From Greasy To Glam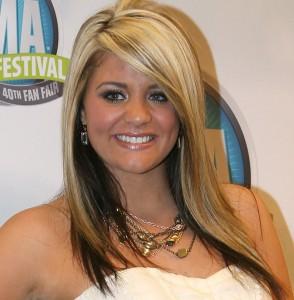 It's a good thing Lauren Alaina got runner-up on American Idol. Turns out, she wasn't the most skilled dough artist at Rossville, Georgia's CiCi's Pizza – a job she hasn't yet quit!
"This one time, I took the pizzas, and this one night, I don't know what was wrong with me, but I dropped, like, six pizzas in one night on the floor," the singer, 16, tells me. "I thought that they were going to kill me. I kept dropping them! They put me in a different position - they put me on the register. I was really embarrassed."
Article continues below advertisement
Now that she's performing in the American Idols Live! tour – and on the CMA Music Festival airing Sunday at 8 p.m. on ABC -- Lauren's embarrassing moments have gotten more dazzling.
"The most difficult thing about being on tour is knowing where you're at," she says. "I never know where we are!"
She continues, "I was in Seattle and someone was like 'how do you like Washington?' and was like 'what are you talking about?' I didn't even know where we were, and I was like 'oh I've never been' and they were like 'you're in Washington right now.' And I was like 'How would I know?'"
Still, there's an upside.
"We get our makeup and hair done every day so it's nice that we don't have to do that for ourselves," she says.
What beauty tip has she learned?
"Sometimes less is more. When you put a lot of makeup on, it takes away from what you really look like, so you have to limit the amount you put on. I used to think the more makeup you put on the better it would be, but that's not true."
Article continues below advertisement
While Lauren gets lots of perks, she still stays in tune with her roots. She was honored with her own day in Rossville earlier this year.
"Oh, that was incredible," she says. "I had been gone for so long, and I got to go home and see my family and all my friends. It was a very emotional day because I got to take a trip home, and I'm glad I get to have that experience."
Lucky for Lauren, life at home hasn't changed too much.
"I like to go to football games with my friends and hang out at the movies, and do normal things that teenagers like to do."
Like make pizza?
Pick up the OK! on newsstands now for more on Lauren Alaina, who performs at the CMA Music Festival, which airs Sunday at 8 p.m. on ABC. The cover line is "Kourtney and Khloe Reveal Secrets of Kim's Wedding."