NEWS
Lauren Conrad Dishes on New MTV Reality Show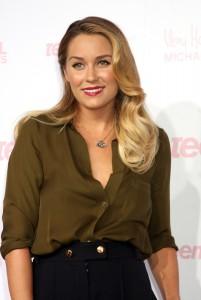 After leaving the hit reality show the Hills, Lauren Conrad spent a lot of her time working on novels like L.A. Candy. Now, the 24-year-old is talking about a new MTV reality show, but this time, it will be on her terms.
"It is reality, it will be more career based so the main focus is my contemporary line, Paper Crown," Lauren told reporters on Friday night, "But we're also looking to focus on other projects I have in television, with Kohl's, the books that I'm writing - so hopefully it will be all the different things that I get to do."
Article continues below advertisement
Lauren says that although nothing is set in stone yet, she is very excited to do a new series.
AMANDA, MEGAN, LAUREN, & GABOUREY TOP "ELLE'S 25 WOMEN UNDER 25"
"I'm very excited, we start filming next month and we're still trying to get everybody on board so I don't have a ton of details yet but I'm really looking forward to it," the author revealed at the Teen Vogue Young Hollywood party.
LC admits that she agreed to do the new show only if she was able to have more input on the content, as opposed to her days on the Hills.
"It was great because I was allowed to lay down ground rules and say this is what I'm willing to put on camera again and this is what I'm not. Everybody is on the same page so I'm very happy going into it."
And as for guest stars?
HEIDI & SPENCER OFFICIALLY DISMISS THEIR DIVORCE
"Lo Bosworth's too busy for me! I have my roommate Maura who is running my clothing line so you'll be seeing her and a couple other of my friends but it will be more of new faces, ones that hid from cameras before."
With fresh faces, everyone is wondering if Lauren's boyfriend and fellow actor Kyle Howard will be making an appearance.
"No," the starlet tells OK!, but says that, "he's very supportive."