NEWS
Lauren Conrad Not Giving Up On Fashion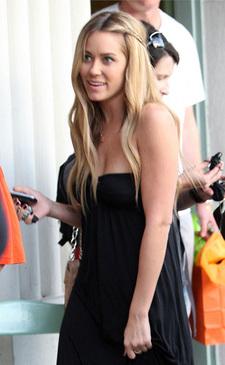 Thank heavens... all those reports that <a href="https://okmagazine.com/search/conrad" target="_blank"><strong>Lauren Conrad</strong></a>'s clothing line was going bye-bye were apparently overexaggerated — at least according to LC herself.
In a new entry on her <a href="https://blogs.myspace.com/index.cfm?fuseaction=blog.ListAll&friendId=114294997" target="_blank">MySpace blog</a>, the Hills star takes to the Internet to "clear something up."
Article continues below advertisement
While Lauren does admit that it's true that the stores carrying her clothing line were notified that there'd be nothing new coming from the reality star, she says, "a lot of people were under the impression that my line was being discontinued or had been dropped. This isn't the case at all."
So what is the truth? Just wait... she gets to that.
"The truth is I was the one who asked to take a couple seasons off. I have learned so much in the past year and I want to apply that to the improvement of my clothing line. I also wanted to make some changes in production so I would be able to lower the price point.
"That being said, I am actually really excited about beginning this process. I have spent the last couple weeks working on designs for spring, which is when I am planning to bring the (new and improved) line back. I also have some very exciting things going on that will be announced shortly.
So stay tuned!"
We know we're on the edge of our seats... aren't you?
MORE PICS OF LAUREN:
<a href="http://www.okmagazine.com/pixandvids/gallery/12798/1" target="_blank"><img src="https://d-images.okmagazine.com/img/photos/large/24211.gif" width="74" height="100"/></a> <a href="http://www.okmagazine.com/pixandvids/gallery/12798/2" target="_blank"><img src="https://d-images.okmagazine.com/img/photos/large/24210.gif" width="74" height="100"/></a> <a href="http://www.okmagazine.com/pixandvids/gallery/12798/3" target="_blank"><img src="https://d-images.okmagazine.com/img/photos/large/24209.gif" width="74" height="100"/></a> <a href="http://www.okmagazine.com/pixandvids/gallery/12798/4" target="_blank"><img src="https://d-images.okmagazine.com/img/photos/large/24208.gif" width="74" height="100"/></a>