NEWS
Lauryn Hill Claims Withdrawl From Society Resulted in Failure to Pay Taxes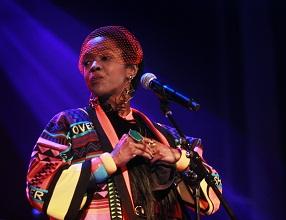 We're not sure Uncle Sam sees not participating in society as an excuse to avoid paying taxes. Particularly if, while not participating in society, you make a million dollars.
OK! NEWS: LAURYN HILL COULD FACE JAIL TIME FOR TAX EVASION
Lauryn Hill took to Tumblr yesterday to address claims that she failed to pay taxes in 2005, 2006 and 2007, on the more than $1.5 million she earned from recording and film royalties. So, what's the excuse? The eight-time Grammy winner says she had withdrawn from society during the time in question, to protect the safety and well-being of her family.
Article continues below advertisement
OK! NEWS: LAURYN HILL GIVES BIRTH TO SIXTH CHILD, BUT WHO'S THE BABY DADDY?
"Over-commercialization and its resulting restrictions and limitations can be very damaging and distorting to the inherent nature of the individual," Lauryn wrote. "I did not deliberately abandon my fans, nor did I deliberately abandon any responsibilities, but I did however put my safety, health and freedom and the freedom, safety and health of my family first over all other material concerns! I also embraced my right to resist a system intentionally opposing my right to whole and integral survival."
Um, ok.
Lauryn goes on to say that it was always her intention to rectify the situation.
"When I was working consistently without being affected by the interferences mentioned above, I filed and paid my taxes," she wrote. "This only stopped when it was necessary to withdraw from society, in order to guarantee the safety and well-being of myself and my family."
A spokesperson for the U.S. Attorney's office in New Jersey said they could not publicly address the specifics of the situation.