NEWS
Lawyers in Sheen Spat Move to Dismiss Restraining Order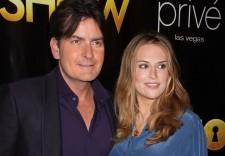 Amid all sorts of rumors and reports that Charlie Sheen and wife Brooke Mueller's marriage was headed for the dustbin of history following a Christmas morning blowup that landed the actor temporarily behind bars and under a restraining order, comes news that there might be a peace offering in the offing — Lawyers for Charlie have filed a motion, with the cooperation of Brooke's legal peeps, to dismiss the restraining order.
Article continues below advertisement
In a document filed in Pitkin County, Colorado, where the couple's Dec. 25 argument spun out of control inside their Aspen home, Charlie's lawyers states that they have spoken to Brooke's attorney Yale Galanter, and that the mother of Charlie's twin boys now wishes to have the protection order dismissed.
But just because both sides are requesting to end the order doesn't mean it's dismissal is a done deal. The court will consult with Chief Deputy District Attorney Arnold Mordkin to get his opinion on whether or not a dismissal is truly in Brooke's best interest.
Regardless, Charlie is due back in court on Feb. 8, where he could be formally charged with Second Degree Assault, Menacing and Criminal Mischief.