NEWS
Lea Michele & Darren Criss Dish on Kate Hudson & Sarah Jessica Parker's Roles on 'Glee'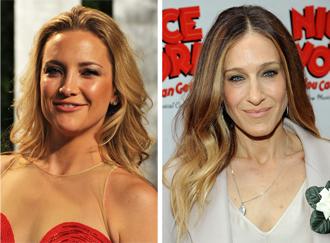 If you didn't know it yet — you're about to find out! Two of Hollywood's A-list actresses, Kate Hudson and Sarah Jessica Parker, will both be guest starring on Glee next season and we have some scoop on their upcoming roles!
Both Kate and SJP will come in close contact with Lea Michele, aka Rachel Berry, who just relocated to NYC after being accepted into the prestigious performing arts school, NYADA. And at Comic-Con over the weekend, Lea, Darren Criss and the show's co-creator and producer Ian Brennan revealed how Kate and Sarah's characters come into play next season. 
Article continues below advertisement
As for Darren, he hopes he gets the chance to work with Sarah Jessica, considering his character Blaine is still dating Kurt. 
"I've had a good ride, sort of hanging on to Chris' coattails. If I could continue to do that, that'll be great… And if that yields work with Sarah Jessica Parker, I'll be thrilled," Darren gushed to Access Hollywood. "That'd be so cool. I love her." 
As for Kate, she'll be a huge part of Rachel's experience at NYADA. 
Article continues below advertisement
"I'm going to be in a leotard in the first like, five scenes of the show... just Rachel Berry in a leotard, so I'm gonna have to make sure it's nice and comfortable," Lea laughed. 
Are you excited for season four of Glee?