NEWS
LeAnn Rimes Blogs About Being a Stepmom: "I Will Never Replace" Brandi Glanville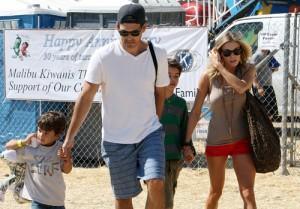 The same day her Eddie Cibrian's ex Brandi Glanville made her debut on The Real Housewives of Beverly Hills, Eddie's new wife LeAnn Rimes decided to blog about her role as a stepmom to Brandi and Eddie's two sons.
OK! GALLERY: LEANN RIMES RINGS IN HER BIRTHDAY AT RED O
LeAnn announced she wrote a new blog post this morning on Twitter that's titled "No Step About It."
"Step...Stepmother, Stepfather, Stepchildren — the word "step" can take on such a negative connotation to so many in our society," the country singer begins her post. "A family is a family. In my eyes, there's no 'Step' about it."
Article continues below advertisement
"There are many obstacles to overcome...two households with different rules, many different personalities and opinions that can pose issues at times," LeAnn explains. "But it's important to take the highroad for the kids' sake and ultimately for your own."
OK! NEWS: LEANN RIMES REVEALS HER FAVORITE THING TO WEAR — "NOTHING!"
And while it may have started out sounding like an advice column for other stepparents, LeAnn then got more personal and discussed her relationship with her two stepsons.
"Eddie's son's, I treat as if they are my own. Eddie has always encouraged me to look at us as a family and a part of our family are the two beautiful boys that we share with their mother and hopefully one day another wonderful man," she said of Brandi. "One thing I know, is that I will never replace their mother, I would never try. I will however love them with all I have and do anything in my power to help raise them in a loving, safe and proper environment."
And LeAnn also makes it sound like she's been doing a good job of it so far.
"Eddie and I make a conscious effort to focus on the positives in our home and try not to let the negative seep in."
What do you think of LeAnn's new post?