NEWS
LeAnn Rimes Defends "Lean" Body After Tweeting Bikini Pics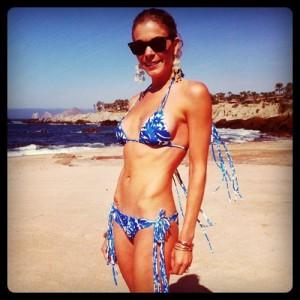 LeAnn Rimes Tweeted some pics from her Mexico honeymoon yesterday and found herself defending her body. The singer looked super skinny in a a blue-and-white string bikini, and some of her fans commented on her picture and expressed their surprise. But LeAnn set the record straight.
"Thx to @MIKOH_SWIMWEAR for another great bikini! Loving wearing them!!" LeAnn Tweeted Sunday with two pictures of herself in a tiny bikini, flaunting her extremely thin and toned body.
Article continues below advertisement
One of the 28-year-old's followers on Twitter commented: "Whoa, you're scary skinny! Sorry don't mean to offend but that's a lot of bones showing through skin..."
"Those are called abs, not bones, love," LeAnn fired back, adding, "This is my body, and I can promise you I'm a healthy girl. I'm just lean. Thanks for your concern, but no need to be."
LeAnn and new husband Eddie Cibrian, 37, married at the end of April at a private ceremony at their L.A. home.
Eddie has two children — Mason, 7, and Jake, 4 — with ex-wife Brandi Glanville.
The couple fell in love on the set of the Lifetime movie Northern Lights in 2009, while they were both still married.