NEWS
LeAnn Rimes on Having an Affair: "It Happens Every Day"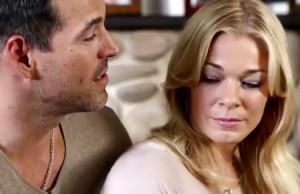 LeAnn Rimes sat done with ABC's Robin Roberts during an "All Access Nashville" special to open up about her public affair with Eddie Cibrian. LeAnn says she has no regrets and says "it happens every day" but the difference is that she is a celebrity.
OK! GALLERY: LEANN RIMES & EDDIE CIBRIAN ARE LOVE DRUNK IN CALI
"It happens every day to so many people," LeAnn said during the interview which aired Wednesday night on ABC. "And if I take away my album sales, my words ... you have just another couple. You had two couples whose marriages didn't work, who really stumbled upon each other and fell in love. I can't change critics' minds. Nothing I'm going to say is going to change it. I do know that and I have accepted that."
Article continues below advertisement
"The truth is that we're human beings," Eddie added in agreement. "We make mistakes and we learn from them, but we're human. We fell in love."
OK! NEWS: LEANN RIMES ON LEAVING DEAN FOR EDDIE — "IT WASN'T A FULFILLING MARRIAGE"
Although LeAnn doesn't regret falling in love with Eddie, she does admit it was unexpected coming from her.
"That's just not me. What happened is not who I am, period," LeAnn said. "I do know how much I love him. So, I've always said I don't live my life with regret. I can't."
"We're talking about something that's over a year, year and-a-half old, really, and we're still together, and we're madly in love," Eddie explained. "And I think people are finally seeing that, but it doesn't mean that people will accept it or the tabloids will stop trying to print lies and try to tear us apart or tear us down."
Whether people love or hate them, LeAnn said, "We're really happy in what we feel privately. We hope that one day, I think people will feel publicly."
Watch the interview below!