NEWS
LeAnn Rimes on Pregnancy Buzz: "Such BS!"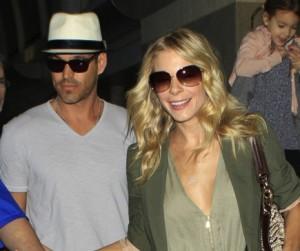 LeAnn Rimes may be engaged, but that doesn't mean she is following Natalie Portman's lead with a bun in the oven. The country singer took to her Twitter to clear up rumors that she was expecting a baby with fiancé Eddie Cibrian.
"This is such BS!!!! Lol, you people all report BS" LeAnn Tweeted earlier today in response to reports circulating the Web that she was pregnant.
Article continues below advertisement
LeAnn and her fiancé are headed for some fun in the sun, celebrating their engagement and ringing in the new year in Cabo San Lucas, Mexico.
"Cabo!!!!! Sun, bikinis, friends, food, tequila...celebration!!!! Gonna be the best trip!!" she Tweeted following her pregnancy denial.
LeAnn, 28, and Eddie, 37, announced their joyous news on Monday.
"Eddie and I got engaged over the holidays," LeAnn she shared with friends over Twitter. "It's for real this time and the first time EVER!"
LeAnn also quipped via Twitter that it was a busy day for her publicist, who also presides over the recently betrothed (and pregnant) Natalie.