NEWS
LeAnn Rimes Reacts to Giuliana Rancic's "Thin" Remark: "You Get Criticized All the Time"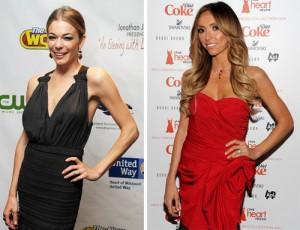 LeAnn Rimes lashed out at Giuliana Rancic after the E! host called her "thin," pointing out that Giuliana also gets "criticized" for the same thing.
OK! NEWS: LEANN RIMES RINGS IN HER BIRTHDAY AT RED O
During an interview about her new Italian restaurant, which she is opening in Chicago with her husband, Bill Rancic, Giuliana was asked which celebrity she would most like to feed. Giuliana chose LeAnn.
Article continues below advertisement
Why?
"She lost a lot of weight from all the stress in her life," Giuliana, 36, explained (via Daily Mail). "She seems a little thin right now, and I think she looks great when she's a bit curvier."
OK! NEWS: LEANN RIMES TWEETS BIKINI PHOTOS TO PROVE SHE HAS "CURVES"
Well, LeAnn, 29, took to Twitter to fire back at Giuliana.
"@GiulianaRancic hey, we should go to dinner sometime. You get criticized all the time for how small you are. You can see just HOW much I eat and maybe put a stop to this crazy "shrinking" once and for all.....oh, & then we should workout together!" LeAnn wrote in a sarcastic Tweet. "Good luck with your restaurant!!!!."
And when fans wanted to know what happened, LeAnn explained, "I just don't appreciate her comments, so I really would love for her to hang with me, see who I am. I am a person, you know."
And LeAnn added, "She gets picked on like me, you'd think she'd get it."
Do you agree with LeAnn?