NEWS
Lee DeWyze: Nigel Lythgoe Wanted to "Borrow Me" During 'Idol' Finale; It Wasn't Appropriate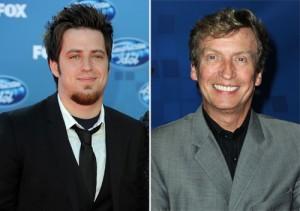 Lee DeWyze has responded to Nigel Lythgoe's Tweet which called out last year's American Idol winner for declining to present the winner's trophy to this year's victor, Scotty McCreery.
The American Idol producer wrote the following on his Twitter after Wednesday's Season 10 finale:
"I was so upset Lee DeWyze wouldn't present the winners trophy to Scotty. Especially as he'd been on the show this Season. I guess he was shy"
Article continues below advertisement
And Lee has responded to Nigel's taunt on his Twitter with the following message:
"Hey everyone, first off I want to say congrats to Scotty & Lauren, awesome job. Well done Scotty! Secondly, just for the record... I was not asked to be involved in the Finale. It wasn't until about 2 minutes before they announced that Nigel had approached me and asked if he could "borrow" me for a second," Lee explained. "I didnt feel a last second jump on stage was appropriate. It was Scotty's moment.I appreciate American Idol, and the opportunity it has given me. And the people who have made that show possible."
He added: "I am not angry, or bitter etc. It was an amazing Finale, and I would have loved to be a part of it. I just wasnt asked. Good luck to all the Contestants and stay true to yourself. Thanks everyone for your support, tour coming up... Good times...I'll talk to you all soon. Love ya!"
But Nigel still wouldn't let it go, posting one final Tweet:
"I don't wish to continue the @leedewyze story. True, he wasn't asked to sing but Lee knows he was asked to present the trophy a week before."
Do you think Lee was wrong for not presenting the trophy to Scotty? Sound-off in the comments!