NEWS
Leighton Meester Finally Shows Up For 'Killer Movie'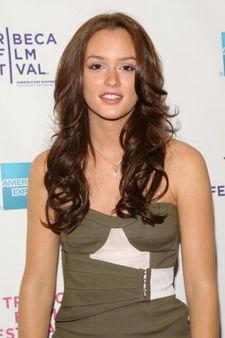 Gossip Girl's Leighton Meester knows how to make an entrance – even if it's eight hours after she is expected. This afternoon I schlep out for the junket with the promise of Leighton and co-star Kaley Cuoco interviews – only to be informed on the spot that director Jeff Fisher and actor Jason London are actually the only ones attending, and both girls had canceled. Not cool.
All is forgiven – but not forgotten – when lovely Leighton struts out of her black limo all smiles and sunshine for the Tribeca Film Festival premiere of her comedy horror flick Killer Movie.
Article continues below advertisement
What's the deal with her character?
"I don't want to give away too much," she deflects. "She's not for long of this world. She's very naïve and unsuspecting."
And it's time for another belly rub for my pregnant reporter friend. "Hi, how are you?" she says, giving her stomach a massage. "I do it every time I see her. Rub her stomach."
What's the biggest diva moment Jason London – Jeremy's twin -- has witnessed? He won't name names, but says stars who seem the nicest are often the biggest divas. "Usually the people who come off as the most wonderful, sweet, kind and mannered have issues," he tells me. "Quite often the last person you'd think would be a diva is, and the person you think would be a diva is not. They're intelligent actors who know what an audience wants."
Fascinating!
Pick up the OK! on newsstands now for more coverage of the Tribeca Film Festival. "Angelina and Brad's Wedding of the Year" is the cover line.