NEWS
Leighton Meester Goes Gaga for Cyndi Lauper, Hermes, Robes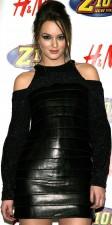 Leighton Meester's music career is taking off at a fast clip thanks to hits including Good Girls Go Bad with Cobra Starship and Somebody To Love with Robin Thicke.
Hearing her song on the radio for the first time is an occasion this Gossip Girl star will never forget.
"The first time I heard my single with Cobra Starship on the radio, I had this really overdone reaction," she says backstage during Z100's Jingle Ball held at NYC's Madison Square Garden on Friday. "I started screaming, and I was actually singing at the top of my lungs to Beyonce right before, and I heard my song right after. There were two cops right next to me, and I look over, and they're, like, staring at me like I was a crazy person. Then, when I heard my song on the radio, I was in L.A., and nobody could even hear it because I was screaming."
Article continues below advertisement
The 23-year-old singer/actress recently got time with Lady Gaga during her appearance on Gossip Girl, but an 80s icon most excites her.
"I talked to her for a minute, and she's really cool, and actually very down-to-earth and normal. But I spoke to Cyndi Lauper recently, and she was on the show, too. That was a very fun experience. I saw her more in her element at the Woody Awards, and she is amazing."
Leighton must be the envy of her musician co-stars Taylor Momsen, whose band Pretty Reckless has toured with The Veronicas, and Ed Westwick, who fronts indie rock band The Filthy Youth.
Still, no collaborations are in the works.
Taylor says, "We have very different styles, and we're very different people, so you know I wish her the best. Music's what I live for. I'm so passionate about it."
Ed gives props to Leighton.
Article continues below advertisement
"Leighton's quite fun," he tells me. "She's got a sense of humor where it's like you and her have a little gig going, and it's very personal. She's very wise for her age. People talk about wisdom being a thing that comes to a person when they're a lot older, but Leighton's wise for a young lady. Someone that you could talk to and ask for advice."
Leighton gets personal on her forthcoming album, admitting boyfriend Sebastian Stan influenced her tunes.
"Everything that I've gone through in my life has influenced my music, and it's been both good and bad experiences with love," Miss Meester says. "I'm influenced by a lot of things -- my past and my friends, love and fashion and traveling and sexuality."
Although she recently splurged on an Hermes watch for herself, when it comes to presents, Leighton is no diva.
"Last Christmas, I got a robe, and it was just because I didn't have one, so my very good friend noticed that I was always using his," she says. "He was like 'I'm going to give you one.' As I was getting on a flight, he was like 'here, do you want this?' I was like dreamily 'I really do! I didn't even know I wanted it until right now.'"
When her debut album hits stores in early 2010, Somebody To Love duet partner Robin Thicke will be among those to pick up a copy.
He says, "She is extremely charming and seductive and sexy. We had a lot of chemistry, and had a great time together. I think she's amazing."
Here's a pic of Leighton and I: