NEWS
Leighton Meester Talks About Her Tattoo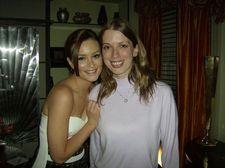 Gossip Girl's Leighton Meester got a beach tattoo on her wrist after wrapping her film Remember The Days, which will be in theaters April 11.
"This was years ago before Gossip Girl, and my best friend Jess Manaford wrote and directed it," she says. "She's got a lucky star, so I was saying one day that I really wanted to have a tattoo. At the end of the movie I was so excited that we were finishing and I was also really sad because it was the best movie experience I've ever had. We were in North Carolina, so close, made friends for life. We became so close so we got tattoos."
Article continues below advertisement
She got it as a friendship tattoo, and claims is "absolutely" did not hurt.
Friendship is important to the 21-year-old star.
"I got a couples massage with my castmate Nicole Fiscellla," she tells me of her Valentine's Day. "I flew back from Toronto and hung out with a friend and watched a movie."