NEWS
Leighton Meester's Leaving 'Gossip Girl' in Two Years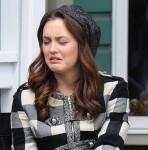 The end of Gossip Girl may be near. Leighton Meester has marked her calendar for the day she's done with the hit show.
OK! GALLERY: THE GOSSIP GIRL GROUP GETS SET IN SCENES
The show is not done with her, but Leighton says she knows when she will be done with it.
"Two more years," she told E! News while promoting her new film, Country Strong.
So why two years exactly?
"Because we're under contract," Leighton stated.
Article continues below advertisement
OK! GALLERY: LEIGHTON MEESTER PROMOTES THE ESSENCE OF BEING HERBAL!
There are no hard feelings, however. Leighton said she "obviously enjoys working on the show and living in New York."
And lately, Leighton said the show's producers and the network have been understand about letting the stars take time off or reorganize schedules to allow them to pursue other projects.
"It allows you to be ready for when the show's over," she explained.
OK! GALLERY: COUNTRY STRONG BRINGS OUT THE BIG STARS IN NASHVILLE
So if Leighton will be done in two years, does that mean the entire show will be over then too?
"I don't know," she said, "but I think there's that old saying about wanting to go out on top."
Do you think Gossip Girl should end in two years? Would you want the show to continue with Leighton?