NEWS
Leno's Plan To Turn Town's Frown Upside Down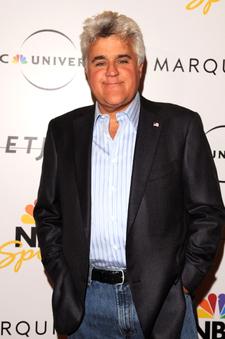 The economy may be bringing entire towns to their knees -- but Jay Leno thinks that we might as well enjoy ourselves while it's happening.
The Tonight host is planning his second Comedy Stimulus show, this time for the thousands of people in Ohio who have been laid off by the courier DHL.
The do-gooder star -- who did a similar performance for newly jobless auto workers in Detroit earlier this month -- has said the community of Wilmington, near Dayton, has been devastated by the cuts.
Article continues below advertisement
And he's off to try and put a smile back on its face with the appearance on May 10.
According to the Rockford Register Star, DHL Express announced last year that it was planning to pull out of Wilmington Air Park, leaving two thirds of Wilmington unemployed.
It was just announced they are moving the operation to Cincinnati/Northern Kentucky International Airport, more than 50 miles away.