NEWS
Leona Lewis Horses Around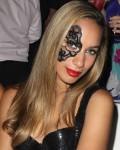 When Leona Lewis isn't performing, she's all about her pets.
Her horse Goose, dog Misty and rabbit Melrose become the center of her world.
When the 25-year-old singer took OK!'s Last Word interview in 2009, she confessed the last thing she bought was a "saddle for my horse," and the last chore she did was "cleaned out my rabbit's cage."
And when she took OK!'s Culture Vulture interview in the issue on newsstands now, she continued to dote on the three lucky animals.
Article continues below advertisement
How does she spoil them?
"Lots of hugs, kisses and cuddles," the "Bleeding Love" singer tells me.
She considers her favorite hobby to be "riding horses."
"I love nature and enjoy learning new skills," she says.
In fact, little reminders of her affection for horses can be found around her home. She tells me she collects equestrian art.
And, she doesn't forget pets in need when it comes to her favorite charity, WSPA - World Society for the Protection of Animals.
"They campaign to change laws to stop the cruel treatment of animals," she says.
Pick up the OK! on newsstands now for Leona Lewis' Culture Vulture interview. The headline is "Rob's Marriage Proposal." And, check out Final Fantasy XIII, featuring her track "My Hands" as its theme song.