NEWS
Leslie Carter Died of an Apparent Drug Overdose, Police Report Claims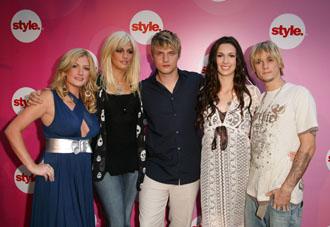 Nick and Aaron Carter's 25-year-old sister, Leslie Carter, reportedly died of a drug overdose after suffering from a mental illness and taking numerous medications for depression.
According to a police report released today, bottles of medication prescribed to treat schizophrenia, bipolar disorder and anxiety, as well as a muscle-relaxant, were found near Leslie before she was pronounced dead at a hospital in upstate New York on Tuesday.
Article continues below advertisement
OK! NEWS: NICK CARTER DEDICATES TOUR & AARON CARTER LEAVES BROADWAY AFTER SISTER LESLIE'S DEATH
An incident report from the Chautauqua County sheriff reveals that Leslie's stepmother, Ginger Carter, told authorities that Leslie, who was taking medication for depression, had "a long history of mental illness" and seemed depressed the morning before she passed away.
Leslie reportedly fell in the shower the morning of Jan. 30, and Ginger helped her lie down. Ginger repeatedly checked on Leslie throughout the day, but at one point in the afternoon, Ginger realized her stepdaughter wasn't breathing. Leslie's father, Robert Carter, tried to resuscitate her using CPR while Ginger called 911.
OK! NEWS: LESLIE CARTER, NICK AND AARON CARTER'S SISTER, DIES AT 25
According to the report, Ginger was also under the influence of drugs when talking with authorities, admitting to taking "five to six pills for her depression" — reportedly more than her usual dose — "because of Leslie's passing."
Leslie's official cause of death will be determined when the Chautauqua County Coroners Office receives toxicology reports in four to six weeks.