NEWS
A Less Than Stellar Ladies Night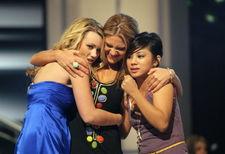 For the second week in a row, the female semifinalists on American Idol failed to match up to their male counterparts. And, if you listen to the judges, that shortcoming can all be blamed on bad song selection.
Leading off this week's cavalcade of wannabe stars was tattooed Irish lass Carly Smithson, who was able to reverse some of last week's bad cabaret karma with her rocked-out version of Heart's "Crazy on You," which the 24-year-old says is her favorite song. And while none of the judges were terribly moved by the performance, ornery Brit Simon Cowell did say he believes Carly is "the one to beat." And his statement that she "hadn't yet chosen or connected with the right song" was a sentiment that Simon and the other judges seemed to end up repeating all night.
Article continues below advertisement
CLICK HERE to vote for your favorite Idol from Wednesday night!
Whether it was Ramiele Malubay, whose rendition of Thelma Houston's one-hit-wonder disco tune "Don't Leave Me This Way" left Randy Jackson saying the "song choice for me was just weird," or Amanda Overmayer being overshadowed by the band (and her hair!) during a misguided attempt at Kansas' "Carry on My Wayward Son," the judges were left wondering what possessed the semifinalists to choose these particular tunes.
The only singer to escape the "bad song choice" trap completely was Brooke White, who took to the stage with her guitar to belt out a note-perfect imitation of Carly Simon's classic "You're So Vain" (which, of course, Simon was convinced was being sung to him). Following Brooke's performance, the normally nasty judge commented that "it was the absolute perfect song" for the 24-year-old beauty school dropout. "This is the reason we put you through," he exclaimed.
Article continues below advertisement
And on a rare night that saw little disagreement between the three panelists, it wasn't until the evening's final performance, by Asia'h Epperson, that any sort of sparks flew. While Randy and Paula thought Asia'h had managed to pull off a serviceable version of Eric Carmen's "All By Myself" (made even more famous by Celine Dion), Simon couldn't disagree more, saying "you're not that good a singer" to pull off what he called "one of diva songs of all time."