NEWS
Let Kendra Be Naked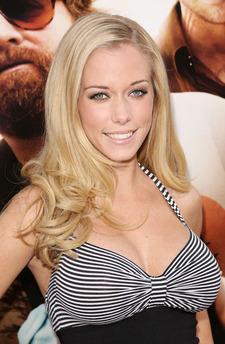 Kendra Wilkinson isn't just ready to marry Hank Baskett, she's downright impatient! Bride-to-be Kendra Wilkinson is more than ready to tie the knot with the NFL star.
"I'm so excited!" she dished to EOnline.com at Reebok's EasyTone party about her upcoming Saturday nuptials. "I'm ready to put on these Reeboks and run down the aisle and jump on him!"
Their honeymoon destination is going to stay secret so Kendra can fulfill her wishes for a clothing-optional, paparazzi-free vacation.
Article continues below advertisement
"It's a private island," Kendra hinted. "I wanna be able to walk around naked if I want and not have paparazzis!"
The mommy-to-be also confesses she's craving "hot cheese sauce," but doesn't know yet if it's a boy or a girl demanding it.
"I'll be happy if my baby's healthy," she says.