NEWS
Letters From London: Fashion Week Arrives Early!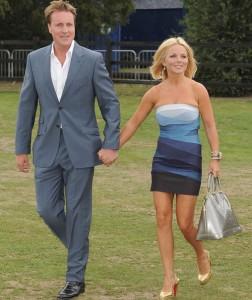 Can't jump across the pond as much as you'd like but love hearing all the latest celebrity and society gossip? London-based journalist Natalie Livingstone and fashion stylist Rachel Ingram give you the low-down on the celebrity and style scene in the world's hottest city!
Fashion week came early to London, as a heady cocktail of singers, actors and It-girls made their way down to Windsor Great Park, (otherwise known as the Queen's back yard), for the quintessentially English Cartier International Polo.
Article continues below advertisement
A stylish concoction of designers including Stella McCartney, Christian Dior and Missoni graced the lawns on the toned bodies of the celebrity attendees — a mixture of high-summer's colourful and floaty with pre-fall's more minimalist and demure uniform of nudes and taupe.
OK!'S LETTERS FROM LONDON: THE WEEK IN THE BIG CITY!
As we sat down to a champagne lunch in the Cartier marquee, So You Think You Can Dance presenter Cat Deely chatted with pop princess Holly Valance over lobster, about her recent break-up with heart-throb actor Jack Huston. She seemed in great spirits laughing and enjoying the sunshine in a navy patterned maxi-dress and tan Balenciaga bag. Holly, carrying her now obligatory sequined Miu Miu handbag, wore a blue silk shirt dress, belted at the waist and told us how she was planning on spending more and more time in London since she was getting serious with new beau Nick Candy of multi-millionaire British real estate moguls Candy and Candy.
MORE OF OK!'S LETTERS FROM LONDON: THE WEEK IN THE BIG CITY!
As a multitude of Louboutin stilettos tottered across the grass to the start of the game, I bumped into Spice Girl Geri Halliwell, bronzed from her recent holiday in Saint Tropez with her other half, socialite Henry Beckwith. In her barely-there Herve Leger bandage dress, she sauntered over to say hello.
As Prince Charles, heir to the British throne, made small talk with Cat Deely and Tommy Lee Jones, the A listers sat back and basked in the sunshine, free flowing champagne... oh and of course — the Polo!
By Natalie Livingstone and Rachel Ingram