NEWS
Levi Johnston Goes to Levi's in L.A.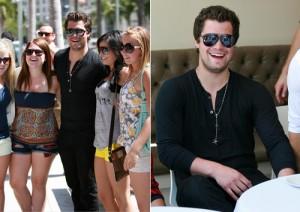 Levi Johnston is already working on his political campaign; he's already shaking hands and kissing babies. Although the young dad is running for mayor of Wasilla, he was greeting fans and supporters in Beverly Hills while shopping and going out for lunch yesterday. Ironically enough, one of the stores Levi decided to drop into was Levi's!
OK! NEWS: LEVI JOHNSTON RUNNING FOR MAYOR OF WASILLA
Levi's attempts at running for office will be filmed on a new reality series called, Loving Levi: The Road to the Mayor's Office.
Article continues below advertisement
Levi is in L.A. after attending the Teen Choice Awards, which he attended with Senser, the same singer/songwriter who's music video Levi appeared in.