NEWS
Levi Johnston: "I Don't Do Porn"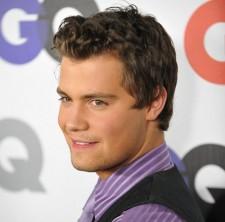 Instead of waiting to take his clothes off, Levi Johnston has skipped the typical fame cycle by going ahead and getting (almost) naked in Playgirl right at the outset. So why didn't Bristol Palin's baby daddy go for the full Monty? "Because that was never the plan. I'm 19. I'm not looking to do porn," Levi told OK! at last night's GQ 2009 Men of the Year party at L.A.'s Chateau Marmont. "That's not what I'm looking to do."
Article continues below advertisement
Now that the whole nudie magazine angle is covered, what's next for Levi?
"I want to get some acting gigs going on. And move on after this Palin thing," he explains to OK!, adding that a show like True Blood or an action movie would be up his alley.
As for Sarah Palin's Thanksgiving invitation? Well, that's not happening, Levi says, adding that a reconciliation probably won't occur in the near future.
"To be honest I don't see it happening any time soon," he says. "I don't care to get along with Sarah."
And while some stars-in-training have jumped on reality show competitions like Dancing with the Stars and Survivor (both shows have contacted Levi, he says) he's got his sights set higher. What kind of reality show would Levi do, you ask?
"My own," he tells OK!.
Sign 'em up and let the Palins fume away!