NEWS
Levi Johnston Talks Playgirl and Palin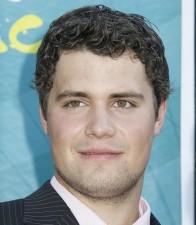 Levi Johnston is opening up about the Palin family and his "tastefully" nude Playgirl photo shoot in a two-part interview with Entertainment Tonight airing Thursday and Friday. Levi reveals that Sarah Palin was "totally freaking out" when he and Bristol told her they were going to be parents.
Levi spoke to ET about the time that he spent around the Palin family and former Vice-Presidential candidate Sarah Palin's parenting skills.
Article continues below advertisement
"Bristol was more of a mother than she was. I was around for quite a few years and as a mother, she just wasn't there," Levi told ET. "She didn't do a lot of the mother things she should have done. Bristol was the one taking Piper to school and helping her out and everything else."
Levi also added his view on the strength of Sarah's marriage and said, "There were arguments where he Todd said, 'alright lets get a divorce.' Bristol felt that there was some cheating in that relationship."
Levi says he's decided to speak about Sarah because he's not afraid of what she could possibly say back.
"She came out and said a few things that questioned my credibility, so I just said screw it. I don't have anything to hide from her. She knows who I am, she knows a lot of things I've done. I'm not worried," he explains in the interview. "I'm sure she is concerned that I'm doing this interview and I'm sure she is watching everything I do. I have things about her that could come out. The TV side of Sarah Palin is not real. She goes out and puts on a big show."
Article continues below advertisement
Levi is aware that his relationship with the Palin's will probably only get worse.
"It's pretty bad," Levi said about their current relationship. "I don't see myself over there for Christmas."
Levi recalls how Sarah handled the news that her daughter Bristol was pregnant.
"The first thing Sarah said was, 'You know this is really going to hurt me.' She was totally freaking out about that. She said she would like to adopt the child so we could keep things under wraps," he explained. "That was a big deal to me and Bristol. That was a bad day for both of us. We just let her have it at that point."
Levi may not have a good relationship with the Palin family, but said he'd "always care" for Bristol.
"She's the mother of my child," he said and revealed to ET that he still has her name tattooed on his ring finger, "I haven't figured out what to do with it yet."
We've heard a lot of Levi's upcoming plans of posing for Playgirl, but he says that he isn't 100 percent positive he's going to pose fully nude.
"I'm not totally sure yet. I think we're going to make that call when we get there. It's going to be a group decision on whether it's going to be a good idea for my image. We're going to do it tastefully and I don't think its going to be a bad thing."
Tune into to Entertainment Tonight on Thursday, Oct. 29 and Friday, Oct. 30.