NEWS
Liam Hemsworth on Miley Cyrus Punking Him: 'She Got Me Really Good'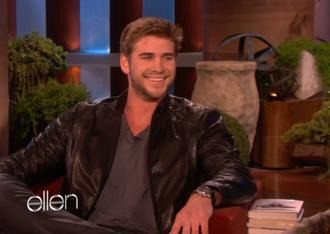 Article continues below advertisement
Liam knew Miley was participating in the return of Punk'd, but he never thought she would be taking aim at him.
"I honestly thought she had enough respect for me not to do me," Liam told Ellen on her show. "She got me really good."
Miley Punk'd Liam by telling him there were naked people making out in her car. In the clip, Liam freaks out and calls the police, who were also a part of the show and absolutely no help to him.
"You see two naked people in your car, so I think my instincts were pretty right," Liam said. "I almost broke the window."
OK! NEWS: THE HUNGER GAMES BRINGS IN $68.25 MILLION ON OPENING NIGHT
Also on the show, Ellen surprised an audience member and Liam fan with a special gift — a giant poster of a shirtless Liam.
"That's like the one I have in my bedroom," Ellen joked.
We wish we had one!
Watch Liam's interview with Ellen over at Ellen.com.