NEWS
Liam Neeson: I Never Take It For Granted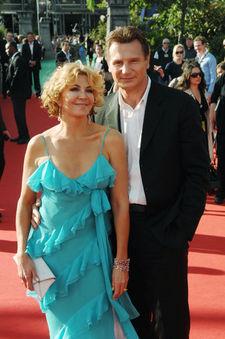 Although Liam Neeson plays an overprotective father dealing with his grumpy ex-wife in the kidnap thriller Taken, his reality couldn't be more serene.
The Irish-born actor, 56, has a happy home life with Natasha Richardson, 45, and they are parents to Micheál, 13, and Daniel, 12.
"His sons are very lucky," former Lost star Maggie Grace, who plays his daughter, tells me. "He's wonderful, gracious, giving and protective."
Article continues below advertisement
In addition, Liam and Natasha, who wed in 1994, have one of the longest-running unions in showbiz.
Now he opens up to me at NYC's Regency Hotel about his family, marriage, former costar Mickey Rourke and Oscar picks.
How are you overprotective of your sons?
Now that they're 12 and 13, I'm less overprotective. Just living in New York when they're kid-kids, every time you leave the building there are concerns such as crossing the road.
I am blessed. My wife and I feel that when our kids are 17, 18, we'll show them the door, and say 'it's a big world out there, go and see it – some of it.'
However, I've got two boys. If I had a daughter, I'm not sure I would be like that. I'd be a bit more protective.
Now that you have kids, do you prefer to do more family-friendly fare?
Oh sure, yeah. I did a voice for video game Fallout 3. I eventually got my son one, and he played it. He's like 'dad, it's you!' There's no escape. I'm going 'yes, son.'
Article continues below advertisement
What's the secret to a happy marriage?
Never take it for granted. That's what I constantly do. Work at it.
Is it true that your wife is leery about returning to Broadway?
She had a gripe that it seems to be a one-newspaper town. If Ben Brantley of The New York Times doesn't like you, the shows seem to go into freefall. It's unfair. But she loves theater. We both do. We're trying to find something to do together for the first time in fifteen years.
But all the planets have to be aligned to get back onstage. We have to find the right piece of material and it has to be right for the kids.
Many showbiz couples don't like to work together, but you're fine with it?
Yeah. Tasha and I worked together twice before we were married, and we have a wonderful chemistry onstage. I'd look forward to it. As long as it's the right thing, I think she would, too.
Article continues below advertisement
What do you think of Mickey Rourke's comeback?
Mickey's wonderful. We did a film called A Prayer For The Dying years ago. He was terrific. He was very good. I sensed somewhere in the future he might get lost. I can't intellectualize that, but he had a lot of hangers-on. He's gone through stuff, so it's wonderful to see him back. It is a thrilling performance he does in The Wrestler.
Any favorite films for Oscar picks?
I recently saw The Reader. I loved the book. I thought that was very well-adapted. My buddy Ralph Fiennes was beautiful in it. They were all great. Especially Kate Winslet, too, but it was very hard to play the older version of that young boy, the German actor David Kross.
And there's a brace of other screeners I haven't seen yet. It's hard to get the time, you know?
Taken is in theaters now.