NEWS
Liam Neeson Takes First Movie Since Tragedy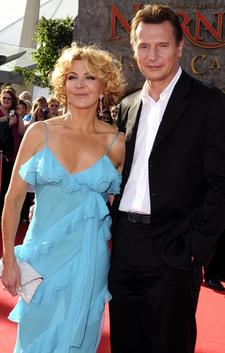 It looks like Liam Neeson is not letting his grief hold him back from his work.
The bereaved husband of Natasha Richardson has signed on for his first role since she died after a freak skiing accident on March 18.
The British-born actor was working on the film Chloe with Julianne Moore when the tragedy happened, and just finished up with that project about a week ago.
Now the Hollywood Reporter says that he has signed up to play opposite Ralph Fiennes, in a remake of Clash of the Titans.
Article continues below advertisement
The lifelong friends will play warring gods in the Greek-god epic from Incredible Hulk director, Louis Leterrier.
They'll be shooting in the UK, which means that Northern Ireland-born Liam and the couple's children, Micheal and Daniel, will be near their family.
CLICK the pics for our Natasha Richardson Remembered gallery