NEWS
Liam Neeson Takes Over Mel Gibson Cameo in 'Hangover 2'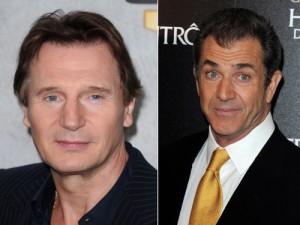 Mel Gibson fired from The Hangover 2, Liam Neeson hired! It didn't take them too much time to find a replacement for Mel, who was originally slotted for a cameo role in the highly-anticipated sequel. One day after Mel was fired, producers nabbed Bradley Cooper's A-Team co-star Liam Neeson to fill the cameo role.
"I just got the call to do a one-day shoot on Hangover 2 as a tattooist in Thailand, and that's all I know about it," Liam told Variety. "I just laughed my leg off when I saw The Hangover. I was shooting in Berlin earlier this year and rented it on the hotel TV."
Article continues below advertisement
Thursday, director Todd Phillips released a statement on Thursday announcing Mel's departure from the film.
"I thought Mel would have been great in the movie and I had the full backing of Jeff Robinov and his team. But I realize filmmaking is a collaborative effort, and this decision ultimately did not have the full support of my entire cast and crew," he said.
Rumors are buzzing that one of the principal actors in the film, Zach Galifianakis, may have been the reason Mel was forced out of the sequel.
"A movie you're acting in, you don't have a lot of control — you just show up and vomit your lines out. I'm not the boss. I'm in a deep protest right now with a movie I'm working on, up in arms about something. But I can't get the guys to listen ... I'm not making any leeway," Zach told Death-Ray podcast last week.
So what's the reason for Zach's discontent?
"It has something to do with a movie I'm working on, yeah. I'll tell you about it later. It's very frustrating," he cryptically said.
Are you happy with Mel's replacement?