NEWS
Lil' Kim: DWTS "#1 Show in Prison"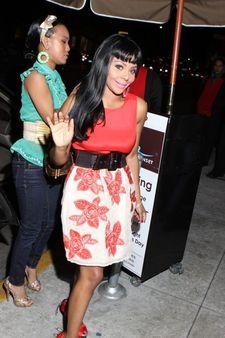 The latest competitor to take on Dancing with the Stars, rapper Lil' Kim, says she's thrilled to be part of the show.
"I'm a huge fan!" she tells The Insider. "When I was in prison, me and my girls used to watch it. My girls were like, 'Kim, you need to be on that show.' In prison you have to all agree what shows you watch. If we can't agree, it doesn't get watched. Everyone watched it faithfully. It's like the #1 show in prison!"
Article continues below advertisement
Kim's partner this season is Derek Hough, who says he was initially nervous to meet her, "but she's so soft-spoken and nice," he says. "We gelled immediately."
Of Derek, Kim says, "I was hoping and praying that I got Derek for my partner!"
In the meantime, the pair is busy rehearsing their dance moves for their first performance on the season opener of DWTS.
Check out the entire interview when it airs on March 2.