NEWS
Lil Wayne's Release From Prison Cause for Celebration?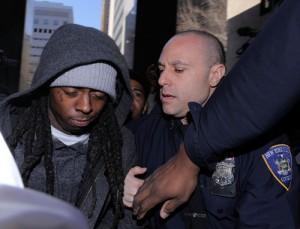 Lil Wayne has officially been released from prison Thursday morning after serving eight months of his one year sentence for attempted gun possession. While many fans have missed him, others say he had never really left them!
OK! VIDEO: LIL WAYNE IN NEW EMINEM MUSIC VIDEO
Lil Wayne is ready to party and so are his fans. MTV News confirmed that the rapper was discharged at 8:35 a.m. from a Rikers Island cell after serving out his sentence.
Article continues below advertisement
Mack Main, the president of Young Money told MTV News that there will be a big homecoming party on Sunday at a Miami strip club in his honor.
According to Mack, Lil Wayne's family wants to "just treat him like a king, like the royalty that he is and make him feel like we really missed him and welcome him back to the family, basically."
OK! GALLERY: LIL WAYNE (FINALLY) IN CUSTODY, HEADS TO JAIL
Many fans are Tweeting their happiness of Lil Wayne's release, but the rapper hasn't forgot them over the past eight months.
Last month, he release released his eighth album, I Am Not A Human Being, and "Human" debuted at number two on the Billboard 200 chart and then hit number one the third week.
"With the Internet, people really don't have a chance to even sense an artist is gone if they have the proper setup," co-founder of Allhiphop.com, Chuck Creekmur, said via PopEater. "Clearly, Wayne has a large volume of work and he had enough lead time to do everything from mix tapes to guest appearances on songs to music videos. So his hardcore fans may miss him, but others may never get the true sense that he was ever away."
Article continues below advertisement
OK! NEWS: LIL WAYNE STARTS A LIL BLOG BEHIND BARS
And Lil Wayne has always showed his appreciation to his fans. His latest letter on his website, Weezy Thanx You, titled "The End of a Long Journey," summed it all up.
"I think back to when I first arrived and I had no clue of what I'd be experiencing," Lil Wayne wrote (via PopEater). "I was never scared, worried, nor bothered by the situation. For that, I thank God, my family, and you, my amazing fans. I prayed for you all every night, as I'm aware that I was in your prayers as well."
"I get the sense from his camp that Wayne missed music while he was in jail and missed the fans in ways we cannot imagine," Creekmur added. "I expect him to come out highly motivated to reestablish himself as a better person and a better musician."
What do you think?