NEWS
LiLo Invades The Stage At Lily Allen Show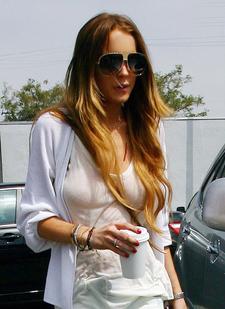 It looks like Lindsay Lohan misses being onstage in front of a screaming crowd.
April 2 in Los Angeles, the actress and fleeting pop star popped up in the middle of Lily Allen's set at the Wiltern -- for no obvious reason.
In a brief and slightly awkward appearance at the Wiltern, Lindsay -- who Lily through LiLo's GF, Sam Ronson, last summer (Sam's brother, Mark, produced some of Lil's first album) -- slinked onstage in the middle of the British singer's rendition of Britney Spears' Womanizer.
Article continues below advertisement
Then the pair, to be planning to record together, danced for a split second, before Lily quickly got back to the task in hand -- ignoring Lindsay completely and as she wandered around awkwardly, before slinking back off stage right.
Is it just us, or does Lily seem somewhat less than delighted with this impromptu addition to her set? Check it out below: