NEWS
LiLo & SamRo's Coincidental Run-In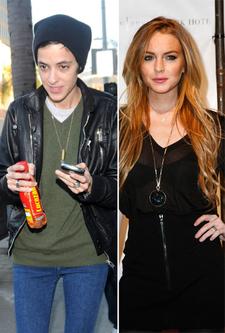 Nothing like accidentally running into your ex right in the middle of a very public, very "she said/she said" break-up: Lindsay Lohan, dining out with mom Dina at Cecconi's in West Hollywood, had a brief encounter of the awkward kind with ex Samantha Ronson.
According to EOnline.com, Sam just happened to be having dinner with a group of guys at the same restaurant at the same time as Linds. She stopped by the Lohan table to say hi quickly, the story says, before leaving by herself.
Article continues below advertisement
While Sam was out of town DJ'ing in San Francisco, Linds was spotted out on the town on Friday night, as OK! reported earlier, partying her pain away with friends.
"People were pouring vodka into her red party cup all night," a guest tells OK!. "She was way beyond incoherent. She was totally smashed and couldn't even form a sentence. She looked so lonely and lost." Lindsay stayed at the get-together until just before 3 a.m. and then moved on to her next pre-dawn party.
Have a news tip or great photo you want to tell us about? Shoot us an e-mail: tips@okmagazine.com