NEWS
Lily Allen Collaborates with Chanel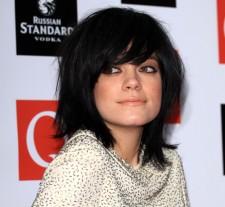 Quitting her day job may work for her after all! Pop star turned actress Lily Allen has been made the face of Karl Lagerfeld's new line of Coco Cocoon bags, an understated collection of featherweight quilted handbags and travel accessories for Chanel, Elle magazine reports.
Lily has made headlines for reportedly quitting her music career and going into acting, so it's not surprising that Karl would swoop in and scoop her up as the face of his campaign.
Article continues below advertisement
"I love Lily's humor, her cheekiness, her talent," Karl said, "her little upturned nose, and her perfect décolletage."
He also loves that Lily loves Chanel, especially the inside-out quilt that is the foundation of his new collection.
Karl also designed a collection that features smaller accessories like wallets, key pouches and toiletry bags because no one likes excess baggage — especially Lily.
Lily announced several months ago that she's "struggling and feeling old" and has had enough of recording after her second album It's Not Me, It's You didn't sell well.
Now, she's instead focusing on her theatrical role in Neil LaBute's new West End production of Reasons to Be Pretty in 2010.
The theme of Neil's play, the damaging cult of beauty, is "close to her heart" and to work on her acting skills she has signed up for private lessons with a tutor from the Royal Academy of Dramatic Art.
Lily will also be focusing on her own fashion and jewelry lines Lily Loves and Lily Allen, so she really has a lot going on right now.
Calling her singing career quits may actually help relaunch her career!