NEWS
Lily Allen Declares Bare Intent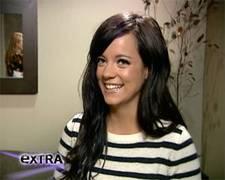 In case anyone was wondering, Lily Allen will tell you what she thinks – first it was her thoughts on drugs and alcohol, and now she's saying she wouldn't mind taking it all off for cameras!
"I'm just very comfortable in my body," she admits to Extra in an interview airing tonight. "I wouldn't do it in a 'Hey-Look-At-My-Boobs kind of way. ' "(Is there any other way?)
Although her new album is called The Fear, the slimmed-down singer doesn't admit to being afraid of too much these days, after having lived in the media's spotlight for a few years now.
Article continues below advertisement
"I Google myself about ten times a day and that's the truth," she says of keeping up with the latest gossip. "They bother me if they're inaccurate in which case I sue… In which case it doesn't bother me because I make money out of it!"
So if she's not afraid of fame or getting naked, what is she scared by?
"Probably dying alone… and pigeons maybe," she reveals. "I just don't like when you walk near them and they fly towards you and they flap their wings fast."