NEWS
Lindsay Avoids Being Served Papers in Sam Ronson Suit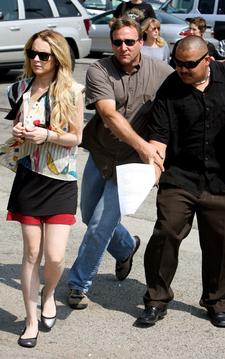 After last year's legal battles for Lindsay Lohan, which saw the actress arrested twice before heading to an extended stay at a Utah rehab facility, it's no wonder that the actress was reluctant this morning to get involved in the legal wranglings of her gal-pal Samantha Ronson.
As she made her way to the set of her upcoming film, Labor Pains, on Tuesday morning, a man attempted to serve La Lohan with legal documents pertaining to a lawsuit involving Samantha and her former lawyers, who she has accused of over-billing.
Article continues below advertisement
However, Linds was having none of it, telling the man, "It's not my lawsuit," as her bodyguard intervened, knocking the papers out of the man's hand and onto the ground.