NEWS
Lindsay Claims She's "Taking a Break" from Sam Ronson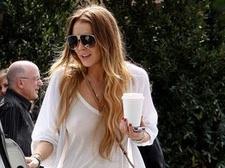 It must be interesting live inside Lindsay Lohan's brain. First, the scandal magnet gets where her on-off girlfriend Samantha Ronson is DJ-ing, and then she hits the Internet to hurl bizarre accusations of cheating and drug use at Samantha, all while the locksmiths are busy changing the locks at Ronson's home.
So by all accounts, it's LiLo who is on the outs in this relationship. Well... by all accounts except her own.
Article continues below advertisement
Today, the Herbie:Fully Loaded star spoke to E! News to declare her side of the story. "We are taking a brief break so I can focus on myself," she explains.
What exactly she means by that is still unclear. The one-time A-list actress has been box-office poison in recent years, so perhaps she's focusing on herself because she has no career to pay attention to?
MORE LINDSAY PICS: