NEWS
Lindsay Davenport Defends Elin Nordegren's Image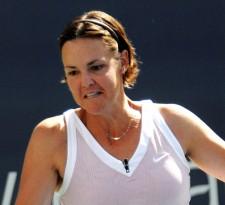 Tennis Pro Lindsay Davenport is taking a swing at the image being painted of Tiger Woods' wife, her friend Elin Nordegren. "Certainly she did not go after Tiger physically and go after him with a golf club," Lindsay says in an interview with Entertainment Tonight. "That is not what happened."
The image of Elin being an aggressive woman is completely false, the three-time Grand Slam tennis champ says, "She's incredibly hurt by what has gone on but she handles herself with class and she's working it out as best she can."
Article continues below advertisement
Lindsay describes Tiger's wife as "very loving, very loyal" and "level-headed."
Since the scandal came out Lindsay says she has spoken to Elin.
"I don't think Elin particularly cares what people think about her," Lindsay explains. "The illusion and the identity out there about her is not her. Although she is having a tough time, she's really trying to get through it for the kids. What people are saying about her is not what happened."
"Nobody wants to go through divorce, especially when there's young children involved," Lindsay says on the current state of Tiger and Elin's marriage. "Her priority is her children Sam and Charlie. She's obviously protecting them from the media. Everyone's wish when you get married is to make it work and we'll see if they're able to do that."