NEWS
Lindsay Defends Little Sister in Bosom Scandal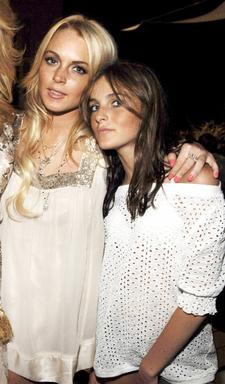 For the second time in a week, Lindsay Lohan's little sister Ali Lohan is making headlines for comments regarding her appearance.
First, CNN's Anderson Cooper blabbed about how the teen looked "14 going on 60" during a rant on Live with Regis & Kelly, and now come photos of Ali that seem to show a significant amount of sudden growth in her bust, leading some to speculate wildly that she'd paid a visit to a plastic surgeon.
Article continues below advertisement
While Lindsay remained silent about the first comments, she's not letting this latest slight against her kid sis go away so easily.
In her latest MySpace celebrity blog, LiLo describes a recent incident where a paparazzo so asked her, "Hey Lindsay, what do you have to say about people commenting on your sisters implants?"
To which the actress replies, "WOW!!!!!!!!!!!!!!!!!!!!!!!!.... 'Did you really just ask me that? She is a 14 year old girl, and you are a pedophile!'
"i was caught out of nowhere so i didn't really come up with the proper response at the time.. there's many other things that i felt like saying, but why give it to a random guy with a camera so that he can make money!"
Lindsay goes on to defend her family, saying, "Of course we have our ups and downs, but all in all my mother taught us to appreciate what we have been given. Nor would she ever encourage, or allow a 14 year old child to alter her body."
And as someone who grew up in the spotlight, Linds shares some of her own insights: "It is hard enough being 14 years old and you have enough insecurities to begin with, then add being in the public eye..."
But it's not all bad news on Lindsay's blog. "I got some great clothes from alexander wang," she shares with her fans.
And perhaps in her most revealing moment, the actress refers rather openly to her girlfriend Samantha Ronson by ending her blog entry with, "I miss samantha cuz she's out of town."