NEWS
Lindsay: I Love Her Very Much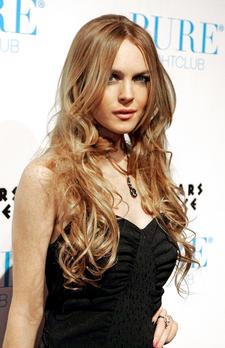 Lindsay Lohan might not be taking out any ads in the paper naming DJ Samantha Ronson as her girlfriend, but she's not hiding her love either.
"I feel like it jinxes it," she tells Harper's Bazaar of openly speaking about who she's dating. "It's hard. The second I start talking about whomever I'm seeing, a month or two later it's failed."
CLICK HERE for OK!'s Ultimate Lindsay Lohan gallery!
While Lindsay says she doesn't want to classify her sexuality – she's "maybe" a bisexual but not a lesbian – the two have been almost inseperable in the last few months, a fact that has cemented their image as a couple.
Article continues below advertisement
"I think it's pretty obvious who I'm seeing," Lindsay admits. "I think it's no shock to anyone that it's been going on for quite some time. ... She's a wonderful person and I love her very much."
The new Lilo seems to have done a complete 180 since 2007, when she spent time in rehab to overcome her partying ways. These days, the Labor Pains star is more likely to be at home watching Gossip Girl or writing on her MySpace blog than out on the town.
"I did it to myself, and I have to deal with the consequences. I'm thankful for what I can take out of it. Now I feel clear. That's my past, and I'm a different person now," she says. "I have goals and I'm working to achieve them. I'm not hanging out with people who are out every night getting f----d up."