NEWS
Is Lindsay Jealous of Blake?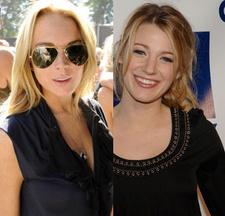 From Hilary Duff to Paris Hilton to... well, you can name just about any young female star — Lindsay Lohan has been rumored to have a feud with all of them at some point in her young life. And now, according to a new report in the NY Post, you can add Gossip Girl star Blake Lively to that list.
An item in the Post's Page Six Magazine claims that when Blake tried to pay a visit to the Queens, NY, set of Ugly Betty to catch up with her Sisterhood of the Traveling Pants co-star America Ferrerra, she ended up inadvertently getting on LiLo's bad side.
Article continues below advertisement
According to the story, Blake's arrival on the set, where Lindsay had been filming a guest-starring role for an upcoming show, caused the paparazzi that had been following Linds to suddenly shift focus and start snapping pics of the Gossip Girl actress.
No longer the center of the cameramen's attention, Lindsay reportedly slunk back to her trailer where gal-pal Samantha Ronson was waiting.