NEWS
Lindsay Lohan Arrives to Court Late; Sent Swiftly to Slammer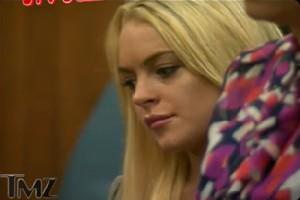 Lindsay Lohan arrived at the L.A. County Courthouse at 8:37 a.m. PST, followed by her back-on-again lawyer Shawn Chapman Holley, mom Dina Lohan and an entourage of security guards. Judge Marsha Revel got right down to business and within five minutes Lindsay was remanded over to officials, cuffed and is headed to the Lynwood Correctional facility to serve (part) of her 90-day jail sentence.
According to TMZ, Lindsay will most likely head to a holding cell at the courthouse, where her SCRAM bracelet will be removed, and then she will be transported to the Lynwood Correctional Facility.
Article continues below advertisement
Lindsay remained composed in court and did not cry.
OK! NEWS: LINDSAY LOHAN'S THOUGHTS ON JAIL TIME? 'EEKS'
She "took it like a champ," according to TMZ, who live-streamed the surrender.
All cameras were asked to be turned off while Lindsay was remanded.
Even though Judge Revel made it clear that no house arrest or early release will be permitted in Lindsay's sentence, the 24-year-old starlet will most probably not have to serve her full 90-day sentence.
As previously reported, the Sheriff's Department will use the 90 days to derive an actual time LiLo will have to serve behind bars, and as a result of "overcrowding," officials say she will only serve about 25 percent of her sentence, or 23 days.
Lindsay's father, Michael Lohan, and his entourage were also present in court today.