NEWS
Lindsay Lohan Embraces Freedom; Returns to the Land of the Tweeting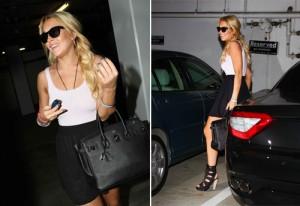 Lindsay Lohan looked fresh-faced and ready to embrace her new life post-jail and rehab on Thursday as she arrived to a Santa Monica doctor's office in her new Maserati. Lindsay went to one of her many counseling sessions and parked in a spot reserved for one of the doctors in the building. Reportedly, most of the offices in the complex are designated for psychiatry and counseling.
Lindsay looked very put together in a black skirt and tank top, a casual yet cute look for the 24-year-old actress.
Article continues below advertisement
OK! GALLERY: LINDSAY LOHAN GOES FOR A LATE NIGHT RIDE POST-REHAB
She even greeted the swarm of photogs with a big smile, before heading into the building with her entourage of assistants
In other Lindsay news, the socialite has finally returned to the land of the Tweeting.
"Clearly.. Paparazzi shouldn't be allowed to take pictures or video while someone's driving or at a stop light. 4every1's sake" she Tweeted Thursday, probably in response to photos captured of her late last night behind the wheel in L.A.
Are you happy to see the "reformed" Lindsay out and about again?