NEWS
Lindsay Lohan Exits Rehab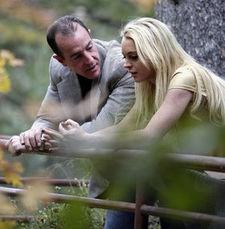 After almost two months, Lindsay Lohan has left the Utah rehab clinic that has been her home. With her until-recently estranged father Michael by her side, the 21-year-old actress packed up her bags and headed back to L.A. on Friday.
"It's an important move for her," one Hollywood insider explains to OK!. "She'd been doing so well at Cirque Lodge rehab center, but it was time for her to show the movie producers and directors that she could finally be the responsible actress she always wanted to be."
Article continues below advertisement
Another big step made in Lindsay's rehab was her reconnection with her dad, himself a recovering addict who recently served time in jail. The pair had not spoken in years, despite several overtures on Michael's part. "They finally seem to be making progress," the insider tells OK!. "If there's one person in her family who even slightly understands what she's going through, it's Michael."
It remains to be seen whether Lindsay will follow the straight-and-narrow path or, like Britney Spears, relapse into a career-wrecking tailspin. But the mood in Hollywood is upbeat. "Everyone knows she's got something special," says the insider. "She just needs to see it in herself."